HSBC:
PROUD OWNERS OF DIRTY COAL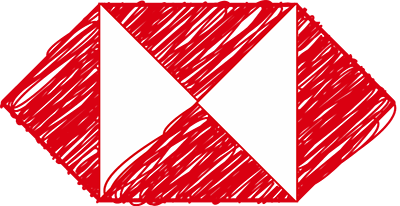 HSBC, one of the world's ten biggest banks, has long been addicted to coal.
Despite some recent steps forward, the bank continues to serve as the financial lifeblood of the most climate wrecking industry on the planet.
One of the many ways in which HSBC continues to support this dirty industry is, as we find in this study, through the ownership stakes it holds in companies building new coal power stations around the world. If these projects go ahead, they will generate the equivalent of about 37 years of the United Kingdom's current annual emissions in carbon dioxide (CO2).
That's why, in the lead-up to its April 2020 annual general meeting (AGM), shareholders, customers and the broader community wrote to HSBC telling the bank to align all forms of investment activity with the goals of the Paris Agreement to keep global warming to below 1.5 degrees.
In response to these enquiries and confirming the findings of this study, HSBC acknowledged that it indeed owns stakes in coal companies. At the same time, the bank also announced that it will no longer directly fund new coal-fired power plants anywhere in the world.
While this is a significant step forward, achieving the aims of the Paris Agreement means much more than ruling out direct project finance for coal plants. At a minimum, it means withholding financial support for the expansion of the fossil fuel industry, covering every form of finance including arranging loans and bonds, providing advisory services and owning stakes in fossil fuel companies.
Disappointingly, despite acknowledging its continued financial support for coal companies, HSBC did not formulate a plan to address these forms of investment.
Please help keep up the pressure by calling upon HSBC to do the right thing by withholding financial support for companies and projects that would expand the scale of the fossil fuel industry.
You can take action by filling out this form, which will send a message to HSBC. To learn more, continue on to the study below.
Take Action
Complete this form to send a message to HSBC following its 2020 AGM, calling upon the bank to withhold financing activities to companies and projects that would expand the scale of the fossil fuel industry.
To learn more about how your personal information is handled, you can find our
privacy notice here
Lending to coal power plants is just the tip of the iceberg
Banks excluding lending to new coal power plants is commonplace these days. As of February 2020, 28 banks worldwide had ruled out finance to new coal power plants anywhere in the world, several moving to phase out exposure to the coal power sector altogether.
Following its April 2020 AGM, HSBC updated its energy policy and now counts itself as one of these banks. While this is a positive step forward, it is in many ways a distraction from the larger role the bank plays as a financial supporter of the coal industry.
Through lending to companies building new coal power stations, arranging and buying bonds for the same companies, and even holding equity stakes in them, HSBC is providing the financial lifeblood to an industry that needs to be rapidly phased out and replaced with renewable energy if we're to have any chance of keeping global warming under control.
And this is before we consider HSBC's exposure to the oil and gas sectors, and other industries with a major carbon footprint.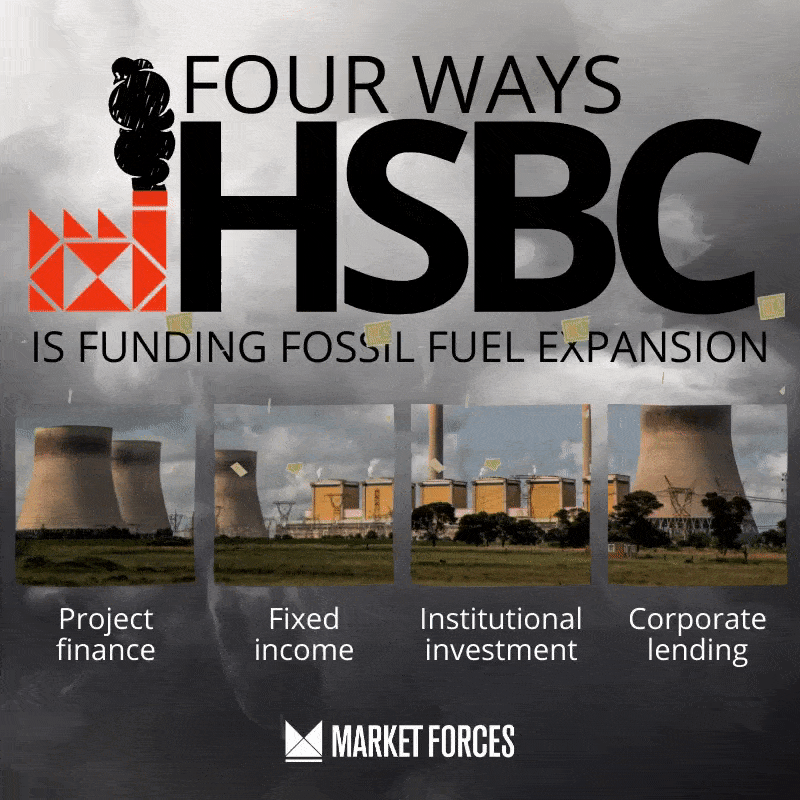 HSBC owns coal companies
This study considers only one type of investment: HSBC's equity stakes in companies building new coal power stations. We are taking an extremely narrow view of HSBC's total support for the coal industry, limiting this study to a handful of companies building new coal power plants. Yet we still find the bank exposed to a gargantuan number of new coal power stations that, if built, would prevent us from meeting the goals of the Paris Agreement.
HSBC holds stakes in 18 out of 33 listed companies within the world's top 100 developers of new coal power stations, companies that are attempting to build another 80 gigawatts (GW) of new coal power capacity around the world. If these projects go ahead, they will generate 13.4 billion tonnes of CO2 over their lifetimes, equivalent to about 37 years of the United Kingdom's current annual emissions.
These projects range from those that have merely been announced, to ones moving through a planning or approval process, to projects under construction. Over half of this new coal power plant capacity is under construction, effectively locking it in.
13.4 billion
tonnes of CO2 emissions will be generated by these coal power plants if they go ahead.
Location of pipeline coal power plants HSBC is exposed to through institutional investment
Hypocrisy
Evidently, HSBC is well aware of the threat climate change poses. In 2016 the bank claimed to be building into its business the aims of the Paris Agreement, holding the increase in average temperatures to well below 2°C above pre-industrial levels, with efforts to limit the increase to 1.5°C.
The bank has also been quick to lecture others about climate change. In June 2018 HSBC's group head of insurance Bryce Johns told a conference in Singapore:
"We simply can't afford to see large, sprawling cities, powered by coal and connected by roads full of cars driven by internal combustion engines. What we need are well-designed urban developments that use clean energy and with efficient mass transit systems."
Yet HSBC has a financial stake in companies attempting to deliver this fossil fuelled future. Given we are well past the point where any new coal power station can be considered compatible with the goals of the Paris Agreement, for HSBC to be invested in companies pursuing new coal power capacity equivalent to triple that of a major coal country like Indonesia, is reaching a level of hypocrisy that would break the scale.
According to the Global Coal Plant Tracker, the Korea Electric Power Corporation (KEPCO) is pursuing another 9.5 GW of new coal power plants. According to filings lodged since June 2019, HSBC had US$5 million invested in KEPCO.
However, KEPCO may be about to add another 3.2 GW of additional coal power capacity to this total, as it considered buying stakes in the proposed Vung Ang 2 coal power plant in Vietnam and the Jawa 9 and 10 project in Indonesia. Aside from their obviously unacceptable climate impact, both projects are riddled with other risks.
The Environmental and Social Impact Assessment for Vung Ang 2, reveals that the project has failed to adequately consult local residents, nor consider the cumulative impacts of the pollution it would add to the region. If built, Vung Ang 2 would sit next to a pre-existing coal power plant that is blamed for coating the nearby town in dust, while also part of the same industrial complex as the Formosa steelworks, which famously caused a toxic spill in 2018 that dissipated the region's fishing community. There was also no alternatives assessment conducted for the Vung Ang 2 coal power plant, which was owned jointly by Mitsubishi Corporation in Japan and Hong Kong's CLP until the latter pulled out of the project in December 2019, citing a new corporate strategy of aligning with the goals of being net zero emissions by 2050, leaving no room to build new coal power plants.
The Jawa 9 and 10 project is proposed to be built in the already heavily industrialised Banten province, less than 100 kilometres from Indonesia's capital, Jakarta. Such are the concerns related to air pollution from Jawa 9 and 10, it was named in a lawsuit brought by residents to the provincial government in 2019.
If KEPCO invests in these projects it will in turn expose HSBC to the myriad environmental, social and financial risks these new coal power stations would bring.
According to information filed since October 2019 HSBC had US$16 million invested in Sumitomo Corporation, which is currently attempting to build another 5.7 GW of new coal power plants, according to the Global Coal Plant Tracker. This includes the 2.4 GW Matarbari power station in Cox's Bazar, Bangladesh, as well as the 1.32 GW Van Phong 1 in Khanh Hoa province, Vietnam.
In Bangladesh, locals have reported a lack of transparency surrounding the Matarbari project's land acquisition process, which began in 2014-2015, with many landowners yet to receive compensation for lost land. Construction of the plant blocked local canals and water gates designed to drain flooding caused by monsoons and cyclone-induced storms. This blockage exacerbated severe water logging, which resulted in the drowning deaths of five children in 2018. According to a 2019 Greenpeace report, Phase 1 of the Matarbari power station is projected to result in over 500 premature deaths each year.
According to Lauri Myllyvirta, a former lead analyst at Greenpeace Global's Air Pollution Unit, Van Phong 1 would produce toxic air pollutants at rates significantly higher than an average new coal-fired power station built in other jurisdictions including China, Japan, South Korea, the US and Europe. For example, compared to the average new Japanese coal-fired power station, Van Phong 1 would emit five times as much particulate matter, five times the sulfur dioxide (SO2) and nine times the nitrogen oxides (NOx).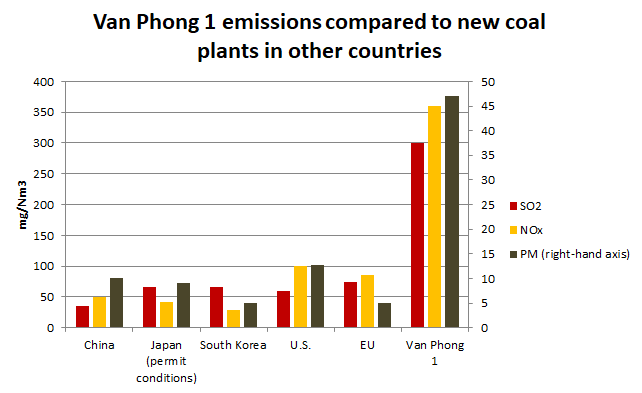 In Vietnam, local residents near the proposed site of Van Phong 1 have told Vietnamese community organisations they are worried about the mitigation of the coal ash and the impact of discharge of cooling water on fish in the nearby Van Phong Bay. These organisations report that although the communities living on the proposed site of the coal power station have been resettled, little thought has been given to alternative livelihoods for farmers and near-shore fisherfolk. Meanwhile, Vietnamese authorities have evicted a 99-year-old Grandma Ca and demolished her home to make way for this coal fired power plant. She refuses to leave as the land they have been offered is not suitable for farming.
HSBC should ensure it's not connected to these environmentally and socially disastrous projects.
NTPC Limited is the biggest developer of new coal power stations in India. According to the Global Coal Plant Tracker, NTPC is in the process of constructing over 23 Gigawatts of new coal power plants, more than double the next largest company on this list. According to filings made since June 2019, HSBC held a stake of US$9 million.
NTPC is pursuing 17 coal-fired power stations in India that over their lifetimes would emit 3.7 billion tonnes of CO2, more than the annual emissions from the entire European Union. One of these is a proposed 1.32 GW expansion of the Singrauli Super Thermal Power Station. An August 2019 ranking of the world's worst sources of the toxic air pollutant sulfur dioxide (SO2) found that Singrauli, the vicinity of the proposed expansion, was the world's 5th largest hotspot for SO2 emissions.
NTPC is also pursuing the 1.32 GW Rampal coal power station in Bangladesh to which there is strong public opposition as it threatens the Sundarbans mangrove forests, a UNESCO world heritage site, home to the endangered Bengal tiger. HSBC is arranging finance for the dredging of Payra port in Bangladesh, which would handle coal for up to seven power plants as well as Rampal.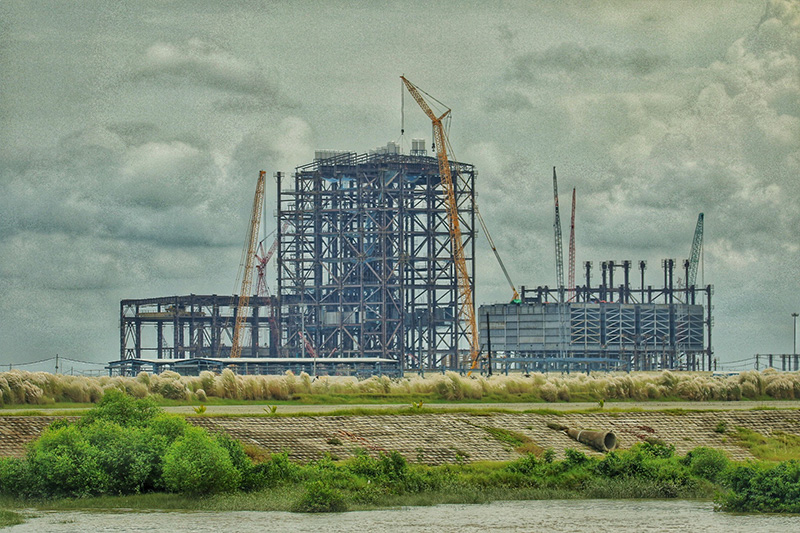 The Rampal power station under construction near Sundarbans, Bangladesh. Photo taken by Thomas Gardiner (USA)

According to a 2017 report by Lauri Myllyvirta, a former lead analyst at Greenpeace Global's Air Pollution Unit:
"The proposed 1,320MW Maitree coal-­fired power plant at Rampal would be among the largest point sources of air pollution in all of Bangladesh. Its emissions would worsen levels of toxic particles over all ofsouthwestern Bangladesh including the Sundarbans ecosystem and the localities of Khulna, Ashoknagar Kalyangarh, Satkhira, Bagamganj, Basirhat, Narsingdi, Noakhali, Basipur and Komilla. People in Dhaka and Calcutta, particularly children and the elderly, would also be harmed."

"Over its operational lifetime, the plant's emissions will increase the risk of stroke, lung cancer, heart and respiratory diseases in adults, as well as respiratory symptoms in children. Even if Bangladesh currently had zero air pollution, the plant alone would cause the premature deaths of 6,000 people, and low birth weights of 24,000 babies."
What needs to happen
HSBC's approach to its climate change and energy policies needs more than just patching up. It needs a complete overhaul, covering project finance, corporate lending, fixed income and institutional investment.
HSBC should not be invested in any company or project that is incompatible with the goals of the Paris Agreement, and be prioritising investment in companies and projects that accelerate the economic transformation towards the Paris Agreement's goals.
In terms of its institutional investment, this means HSBC only invests in companies that are not seeking to attempt to expand the scale of the fossil fuel industry, and are not basing expectations of future revenue or growth on scenarios consistent with the failure of the Paris Agreement, such as the IEA's Stated Policies Scenario.
This would mean immediate divestment from the eighteen companies featured in this study as actively pursuing new coal power plants.
HSBC should be ensuring any company or project it is invested in is actively measuring and managing down its exposure to climate-related risks.
New leadership, new opportunity for change?
HSBC's CEO, Noel Quinn, took over on an interim basis in August 2019 before being confirmed as the bank's permanent CEO in March 2020. This represents a vital opportunity for HSBC to change course.
Mr Quinn must, as a matter of priority, clarify HSBC's position on climate change and the Paris Agreement. If the financial group is on board with the Agreement's goals, it will demonstrate that by withholding any financial support for companies and projects that are expanding the scale of the fossil fuel industry, and set targets for reducing its exposure to coal, oil and gas through its institutional lending, project finance lending, institutional investment and fixed income investments that match the trajectories required to hold global warming to 1.5ºC.
Take Action
Call upon the Chairman and board of directors to address HSBC's position on climate change at the upcoming AGM.
Methodology
Market Forces examined shareholding data from Refinitiv Eikon for the top 100 companies listed in Urgewald's Coal Plant Developers List (a subset of the Global Coal Exit List). We found that HSBC had ownership stakes in eighteen of these companies. Using data from the Global Coal Plant Tracker (Jan 2020), we identified the number and capacity of the planned coal-fired power stations (those that are announced, pre-permitted, permitted and under construction) owned by these eighteen companies. CO2 emissions data also came from the Global Coal Plant Tracker.
Shareholding data from Refinitiv was accessed in Mar 2020 and the value of ownership stakes were calculated by Refinitiv as at the date of access.