Barclays are Europe's number one financiers of the climate crisis.
Image credit: © Chris J Ratcliffe
Barclays wants you to think it's responsible and climate-friendly.
But research from the influential Banking On Climate Chaos report shows that since 2015 (the year the Paris climate agreement was signed), Barclays has financed around US $167 billion in fossil fuels, making the bank the biggest financier of fossil fuels in Europe and the seventh-largest in the world.
Barclays announced new climate policies with much fanfare at its 2020 Annual General Meeting. But since the beginning of 2020, Barclays has:
● Financed coal, oil and gas globally in 2020 to the tune of US$27 billion;
● Financed companies pursuing new and expanded coal mining and power, and oil and gas extraction assets;
● Participated in financing syndicates worth nearly US$100 billion to oil and gas companies, several of which have business strategies aligned with the failure of the Paris Agreement; and
● Fallen behind its peers in key policy areas related to climate change.
Banks that truly care about climate change don't fund fossil fuels. And they definitely don't increase their funding for fossil fuels as the climate crisis worsens.
For more detail about Barclays' inadequate climate policies, read our full investor briefing here.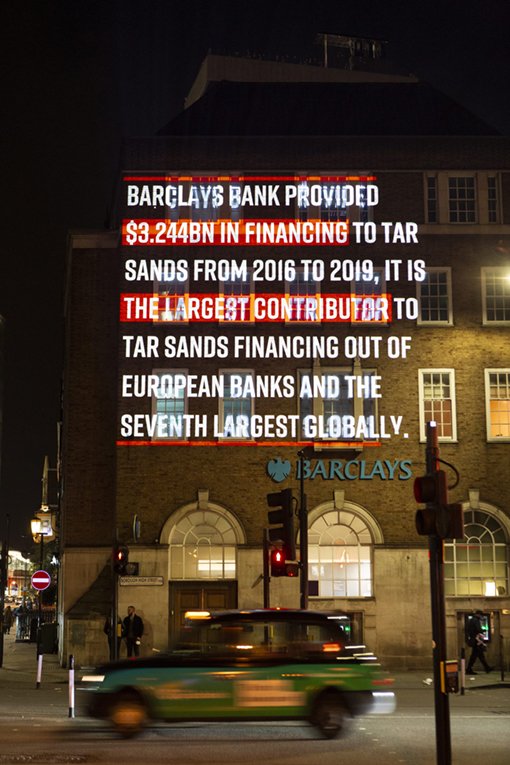 A worldwide trail of destruction
Barclays is an eager funder of some of the most polluting companies in the world. Since 2015, it has provided $2 billion for oil and gas drilling in the Arctic, one of the world's most sensitive habitats. It is the seventh-largest global funder of tar sands and the biggest in Europe.
In the same time period it provided $29 billion for fracking, a process so environmentally destructive it is banned in the UK-headquartered bank's home country.
Customers want change
A poll conducted by ICM Unlimited for Market Forces published in January 2021 shows that 79% of Barclays customers were unaware that the bank funds fossil fuels (only around 1 in 5 customers were aware). Two-thirds believe that the bank should be expected to avoid investing in fossil fuels.
Presented with the information that Barclays is a major fossil fuel funder, a third say they would consider changing banks, with 1 in 10 reporting they would be 'very likely' to switch, which translates to around 2 million Barclays customers in the UK. Barclays can't continue to hide its massive support for the fossil fuel industry from its customers.
Barclays' weak climate policies
Despite concerned citizens finally getting Barclays to adopt new climate change policies, there is still a long way to go.
Barclays says it will phase out it's financial support for coal companies, but its policies are so weak that Barclays can still finance more than 200 coal companies. Together, these companies plan to build six times more coal plants than the installed coal plant capacity in Germany. 
Barclays has committed to stop directly financing Arctic oil and gas drilling, but will continue to provide billions in support for the oil and gas industry, despite climate change being one of the biggest threats to the Arctic region.
The bank can continue to fund oil and gas companies that are expanding the fossil fuel industry while scientists tell us the industry must shrink.
It's very simple – if Barclays truly cares about climate change, it must stop funding fossil fuels.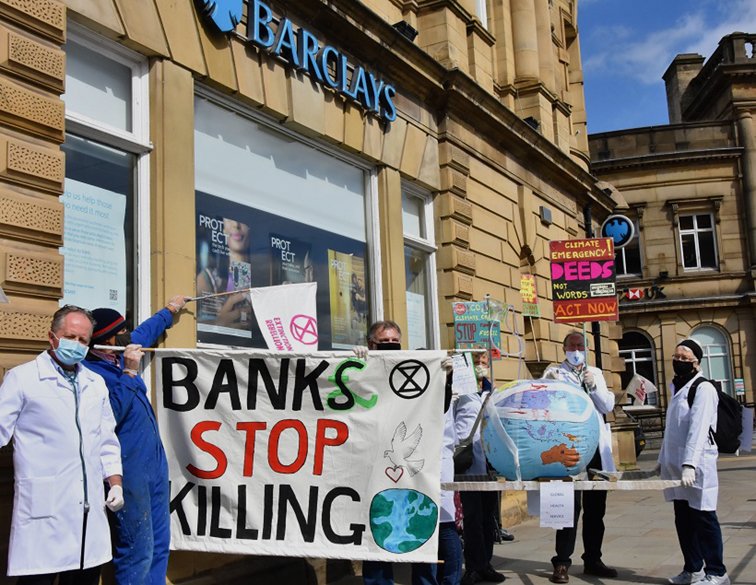 Protesters at the Barclays office in Rochdale. Image credit: Extinction Rebellion
Take action: Send Barclays a message telling them to end their financial support for dirty energy.