Standard Chartered –
"Here For Good"?
Find out why Standard Chartered are the UK's hidden climate villains. 
Standard Chartered's London HQ. Image credit: Cobaltblue25
Standard Chartered –
"Here For Good"?
Find out why Standard Chartered are the UK's hidden climate villains. 
Standard Chartered's London HQ. Image credit: Cobaltblue25
Public outcry about UK banks funding fossil fuels is mounting. Barclays has been targeted for the second year in a row by shareholder resolutions calling on the bank to phase out financing for fossil fuels. HSBC was recently forced into committing to a global coal phase-out by 2040. Polling shows a majority of customers in both banks don't want them to fund fossil fuels.
But one major UK bank has escaped scrutiny for its poor climate policies: Standard Chartered.
Best known for sponsoring Liverpool FC, London-headquartered Standard Chartered has funded US$40 billion in fossil fuels since the Paris climate agreement was signed.
It's climate policy allows them to continue pumping billions into destructive coal companies, including in Indonesia.
Standard Chartered is a key bank funding the Adani group, the company behind the disastrous Adani Carmichael coal project in Australia. The Adani Carmichael coal mine and the Galilee coal basin it will open up are on such a huge scale that they put global climate targets in danger. Carmichael coal could emit 4.6 billion tonnes of CO2 – over ten times the UK's entire annual emissions. By backing Adani, Standard Chartered is complicit in the environmental destruction and indigenous rights violations that the Carmichael project is causing.
Tell José Viñals, Standard Chartered chairman, that he must end his bank's support for dirty energy. Complete the form on this page to send him a message.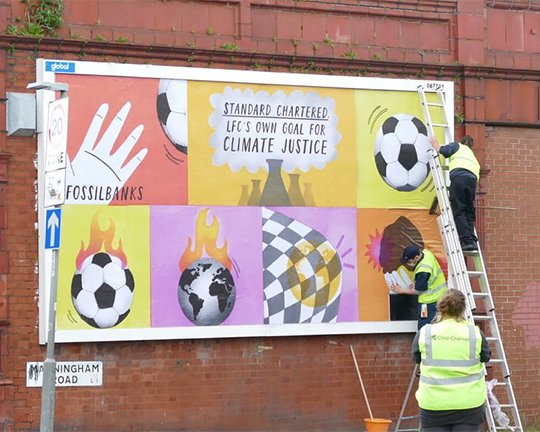 Standard Chartered and Adaro
One of Standard Chartered's most notorious clients is the Indonesian coal giant, Adaro Energy.
Since 2006, the bank has funded US$434 million to Adaro. In April 2021, the bank helped provide another US $400 million for Adaro's coal mining, as part of a syndicate of banks. This is despite Standard Chartered's internal analysis showing Adaro's activities aligning with a catastrophic 5-6°C of global warming.
This flies in the face of Standard Chartered's claim to support the Paris Agreement, which pledges to hold global warming to under 1.5°C.
Adaro is a major supplier of coal to Europe, Asia and America. It controls at least 31,380 hectares of land, an area bigger than Birmingham, producing 54 million tonnes of coal in 2020 alone. It controls coal reserves of 1.1 billion tonnes. Burning all of these reserves — as Adaro intends to do — would release 2.2 billion tonnes of CO2, almost the equivalent of the annual emissions of India. Adaro has a poor human rights and environmental record, including breaching the law by mining beyond its concession and exacerbating deadly flooding through its mining activities.
Adaro has no plans to stop digging up coal. And yet, Standard Chartered continues to fund Adaro, whose business plan is consistent with the Paris Agreement failing.
Standard Chartered's weak climate policies
Standard Chartered ruled out direct financing for new coal plants and mines in 2018, but continues to allow financing for coal companies.
The bank has said from 2025, it will start to phase out finance for coal companies, starting with companies who make the highest proportion of their revenue from coal. But this phase-out is far too slow and means the bank is putting off any serious action on phasing out coal until the middle of this decade, and it will still be able to fund highly diversified coal companies in 2030 and beyond. With this weak policy, the bank is lagging behind its competitors such as Barclays and BNP Paribas.
As well as this, the bank has no restrictions on its ability to fund oil and gas. The International Energy Agency has said that no new fossil fuel extraction projects can be permitted as of 2021, in order to meet the 'Net Zero by 2050' goal that Standard Chartered supports.
Without serious policies to rapidly bring the funding of fossil fuels to an end, Standard Chartered will continue to be a climate villain, on the wrong side of history.