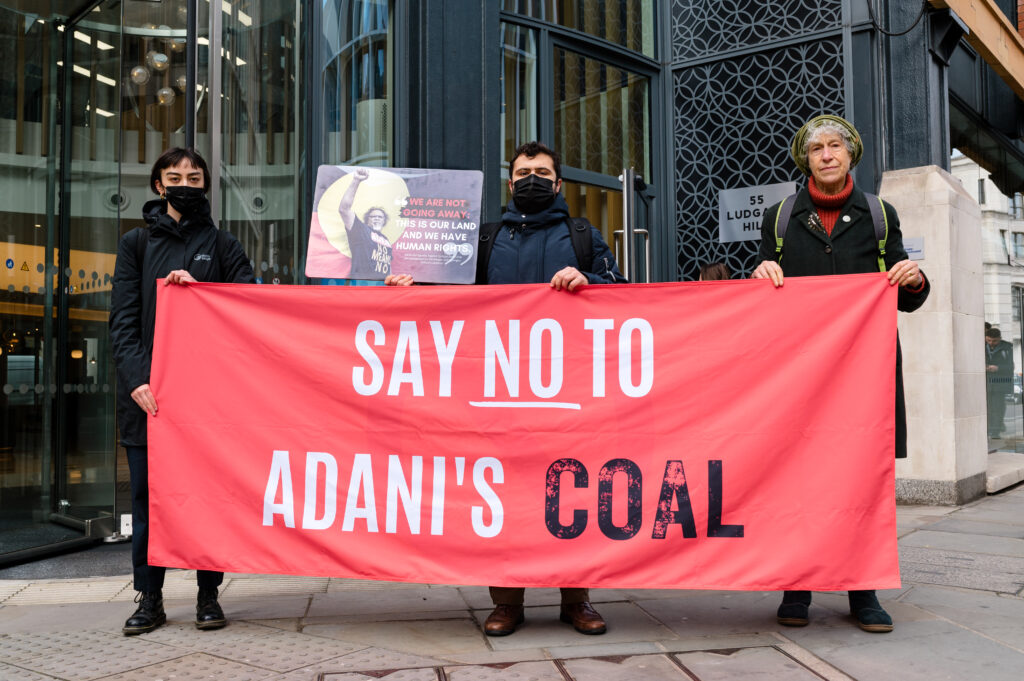 Debt services company latest target of global campaign against Adani mega-coal mine in Queensland, Australia
GLAS' competitors ruling out working with controversial mine owner
Protesters highlighting the resistance of the Wangan and Jagalingou Traditional Owners to the Adani mine
With over 110 major financial institutions, insurance companies and engineering firms refusing to work with the Adani Group on the controversial Adani Carmichael coal mine project in Australia, campaigners sights have moved to GLAS Agency, with a protest taking place today outside the company's global headquarters in Ludgate Hill, Central London.
In November 2021, after a massive public backlash, the Bank of New York Mellon (BNYM) became the 104th company to cut ties with Adani's Carmichael coal project. For many years, BNYM has played a specialised role as Adani's security trustee (an important role in the administration of some debt). With competitors including Perpetual, AMAL, Metrics and SILC Group having ruled out working with Adani, Market Forces believes that GLAS is likely to be the one providing the services that BNYM will no longer provide for Adani's controversial Australian coal infrastructure.
The Adani Group is seeking to refinance a US$500 million debt for its NQXT coal port – the sole port via which the coal from the Carmichael mine will be exported. NQXT has told the Moody's ratings agency that it currently plans to pay back that debt out of its own pocket. However, GLAS' involvement could mean it is still looking for external funds.
The protesters are highlighting the resistance of the Traditional Owners of the land where Adani has established the Carmichael coal mine, the Wangan and Jagalingou people, who have not given their Free, Prior and Informed Consent for the project. The Wangan and Jagalingou have been resisting Adani's coal project since its inception, and have been camping at the mine site continuously conducting cultural ceremony for over seven months.
Mia Watanabe, UK Campaigner at Market Forces, said:
"By helping Adani produce more coal in the midst of the climate crisis, GLAS risks shattering its reputation into little tiny pieces. One hundred and twelve major companies have pledged never to support the Adani Carmichael coal mine, rail line and NQXT port. We're here to convince GLAS to join them."

Quotes from Adrian Burragubba, spokesperson for the Wangan and Jagalingou Cultural Custodians regarding their resistance to Adani are available here.