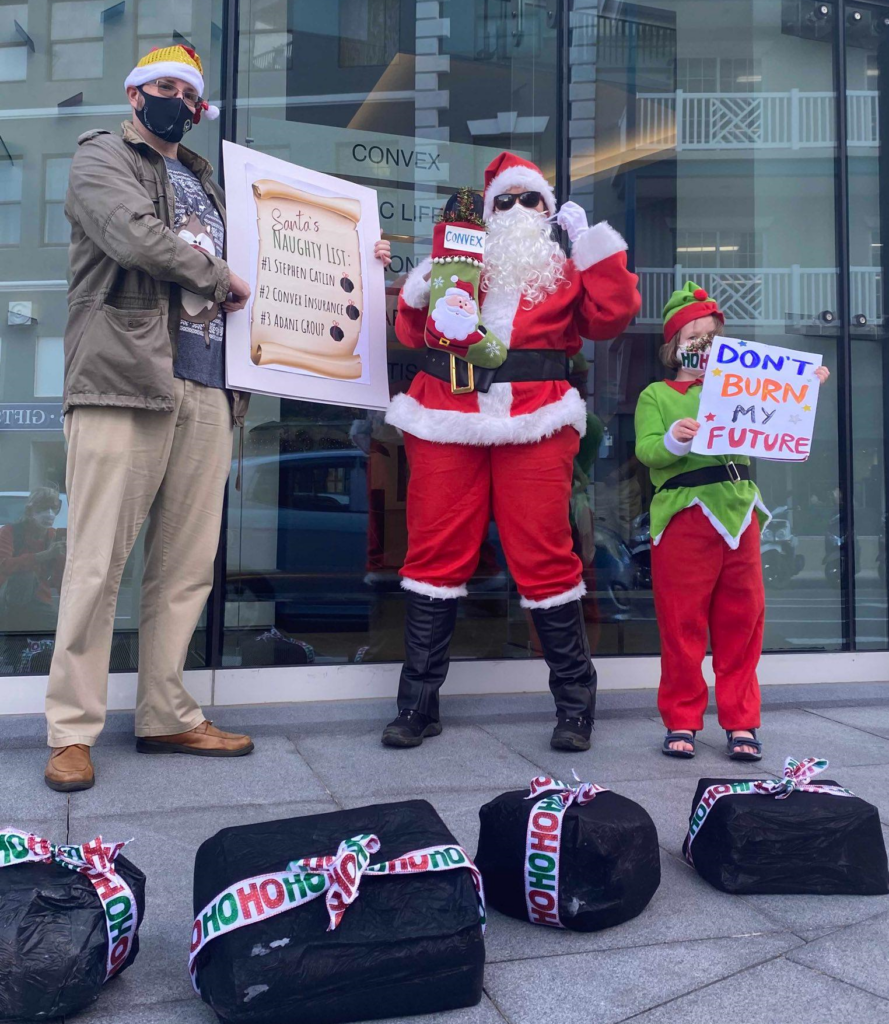 Convex continues to refuse to join 42 major insurers in ruling out insuring controversial Adani Carmichael mega-coal mine
Santa delivers stockings full of coal for Stephen Catlin and Convex outside Hamilton, Bermuda offices
Market Forces campaign escalating as Convex hit with demonstrations in London, and now Bermuda
Convex Insurance, the prominent London and Bermuda-based specialty insurance company, has fallen foul of prominent climate activist Santa Claus over the company's continued support for the coal industry.
Santa delivered stockings full of coal to the Bermuda office of Convex in the run-up to Christmas to highlight Convex's refusal to join 42 other major insurers in ruling out insuring the controversial Adani Carmichael mega-coal mine in Australia. The escalating campaign, organised by environmental finance organisation Market Forces, has seen Convex and its CEO & Chairman, Stephen Catlin, challenged at major insurance conferences and awards ceremonies in London.
The red-suited climate advocate, who is taking a little R&R in Bermuda before his annual trip around the world, said "I'm afraid Stephen Catlin and Convex are on my naughty list this year. Coal is one of the main culprits causing the climate crisis. It's melting the North Pole and destroying the future for all the children I love across the world. Convex and Mr Catlin can try to greenwash their reputation by funding ocean science, but you can't fool Santa! If you don't want coal again next year, rule out the Adani mine like Axis, Hiscox and 40 other insurance companies!"
The Adani Carmichael coal mine and the Galilee coal basin it will open up are on such a huge scale that they put global climate targets in danger. Carmichael coal could emit 4.6 billion tonnes of CO2 – over ten times the UK's entire annual emissions. If the other proposed Galilee Basin mines go ahead, the coal from this Basin alone could produce emissions representing 6% of humanity's entire carbon budget for 1.5 degrees of warming.
So far, 107 companies have publicly ruled out supporting the project, including 42 major insurance companies. This includes Bermuda-based insurance companies such as Axis Capital, Hiscox and Aspen. Convex is one of the only major insurance companies left that is willing to underwrite the project, exposing its professed commitment to environmental issues as pure hypocrisy.
Lily Carr, a Bermudan activist said:
"Bermuda's financial sector could be a global leader for investing in climate solutions but companies like Convex are letting the side down by refusing to deliver what the world wants – which is real action on the climate crisis including the rapid phase out of fossil fuels. By continuing to do business with coal and other climate killers, Convex is burning Bermuda's reputation and our children's future."
ENDS
Notes for editors:
Photographs of the action are here. Photo credit: Market Forces
Market Forces campaigns for financial institutions that have custody of our money to protect not damage our environment. www.marketforces.org.uk